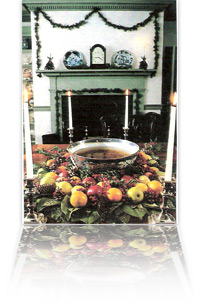 Keeping Christmas
In New York

CHRISTMAS PUDDING OVER THE YEARS has been so much more than a dessert -- it looks pretty, it tastes delicious, and although you can make it overnight, it's richer and more of an event if you make it over several days -- even weeks. The first one I attempted was begun three weeks before Christmas and every evening we would go into the pantry where the pudding mixture sat in a cool spot, and add just a little more dark rum. By the time the big day arrived, every nut and piece of candied peel was deliciously saturated and ready for the addition of brandy over the top so we could set it alight and bring it to the table flaming. If you like holiday meals to be an event, traditional English Christmas Pudding is for you. There are many, many recipes available, this one is mine:
ENGLISH CHRISTMAS PUDDING

COMBINE

¼ cup each candied citron, mixed candied fruits, candied orange peel
½ cup each chopped dates
¾ cup each dark seedless raisins and golden raisins
ADD this to ½ cup each brandy, sherry, and beer; set aside for an hour.

MIX IN

1 ½ firmly packed brown sugar and 4 eggs

ADD

½ cup chopped nuts
1 cup minced suet
½ cup fine dry bread crumbs

SIFT

1 cup all purpose flour
1 teaspoon salt
1 ½ teaspoons baking powder
¾ teaspoon baking soda, 1 teaspoon ground cinnamon
¼ teaspoon each ground cloves and allspice

ADD to the other ingredients and mix thoroughly.
Allow the mixture to set at least overnight.
TRANSFER the pudding mixture into two well-greased 1 quart pudding molds (I've actually used metal jello molds for this and it works quite well). Fill each mold ¾ full and cover tightly with aluminum foil. Place the molds on a rack in a deep kettle, pour boiling water to half the depth of the molds, and cover and steam for 2 ½ hours, putting in more water as needed. Allow the pudding to cool awhile before unfolding gently.

When it comes time to serve the pudding present it warm with a sprig of holly on the top. The following sauce should be served warm, as well, over each portion of the pudding.


RUM SAUCE

COMBINE 1 cup of heavy cream, 3 egg yolks, a pinch of salt, and 1/3 cup light rum in the top half of a double boiler, and stir over boiling water until it thickens slightly.

Although I like to serve Christmas Pudding with Rum Sauce, you can also make Hard Sauce -- combining 1/3 cup butter, 1 cup sifted confectioners' sugar, and ½ teaspoon vanilla, adding a little heavy cream for a richer sauce, and even a little brandy. You'll probably find, though, that the pudding is very rich and does best with a lighter topping.



THE FIRST YEAR that I served the Christmas pudding we went all-out to celebrate and made a wreath for every door, put candles in every window (real ones -- we used votives and they were wonderful), and actually had a tree not only in the living room but in the bedroom, too! After weeks of preparation, Christmas night finally arrived. We gathered our guests by the fire in the living room where we toasted each other, and the season, and then moved on to a six course candlelight feast of roast lamb which it took us three hours to enjoy -- a perfect ending to the holiday, and a perfect memory, as well. That whole wonderful experience wasn't expensive because we made just about everything ourselves, but it was time-consuming in the nicest way. It took time to make the wreaths, and time to put up and decorate the trees. Every evening, it took time to light all the candles and add the rum to the Christmas puddings. It took time to prepare the Christmas feast, and time to share it with those we loved. And because we took our time -- moved through the season rather than rushing past it -- I rejoice to say I can recall every beautiful detail of that Christmas long ago.
We'll tell you what we're doing here... then maybe you'll tell us what you're doing there.
Send your stories, poems, recipes, anecdotes, artwork and photos to:
hopehill@thecountrywoman.us