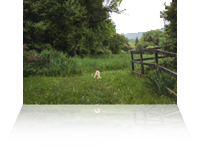 In the Eye of the Beholder
In Massachusetts

We live in a world with creatures of fur and tails, feathers and wings, hooves, fangs, forelocks, and withers. And we usually talk to them, but do not talk with them, perhaps because we believe they don't speak our language. Maybe so, but I have come to believe that instead they speak our hearts. How can we possibly know what another thinks and feels, human or otherwise, unless they tell us, and maybe they do tell us, but in a kind of silent communion that can easily go unobserved.
So then the story of a little porch which belonged to a nearby neighbor and which one day was removed because it needed too much repair. When I returned home at the end of the day and discovered it was gone, I felt suddenly and unexpectedly sad because the phoebes had nested each year in the rafters of its roof and in the morning I had felt great joy in watching them build their nurseries and raise their families. Since this was homemaking time for the phoebes, there were plenty of them around, and that evening they were all in the tree outside my kitchen window -- an incredible number of outraged birds who chattered and glared as I looked mournfully out at them -- a home destroyed in the midst of nest-building, child-rearing -- unthinkable!
page: 1 | 2