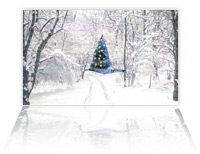 Again This Year
In Connecticut

AGAIN THIS YEAR we vowed no fuss,
A quiet Christmas -- good for us!
A simple wreath, a tiny tree,
focus on simplicity,
nothing fancy, simple fare,
one gift each, no wear and tear.
Then having made the token pledge,
I got to work to get an edge on
Christmas shopping,
Christmas greening,
Christmas cards,
and silver cleaning,
making lists (I now have nine),
inviting several guests to dine,
planning for a six-course meal,
knee deep in nuts and candied peel,
wrapping parcels, making bows,
taking aspirin ..... so it goes!
Is it worth it?
We confess, we love it all.
The answer's yes!
The Christmas hours, brief and blessed,
give a purpose to the rest.
We wrap our home in Christmas cheer,
and make a gift of it each year.
And the wonderment, the glow,
the lovely candles, falling snow.
How quiet, soft the silent night,
The Earth at last at peace, alight,
The scent of pine, the Christmas tree,
with ornaments hung tenderly,
from years gone by and recent times.
The mistletoe and angel chimes.
The fire burns red, and warm and long,
The wind moves through our trees in song,
and in this night that God has made,
the world is gentle, unafraid.
In gratitude, in celebration,
in memory or anticipation,
the old year ends, begins the new,
at heart we're sharing it with you.
Across the miles, across the seas,
when Christmas is begun,
we wish you joy, and love, and peace,
God bless you, every one.


We'll tell you what we're doing here... then maybe you'll tell us what you're doing there.
Send your stories, poems, recipes, anecdotes, artwork and photos to:
hopehill@thecountrywoman.us